Yoga Music for Kids? Yes!
REACH TO THE SKY is now available! Introduce your kids to yoga with Lizzy Luna's debut children's album, a mix of original dance, folk, funk, pop, guided imagery, and lullaby songs just for young yogis. Order this one-of-a-kind album today!
Lizzy Luna's unique Yoga Storytime and Songs incorporates yoga-position-inspired characters and settings as well as original music with interactive movements. Children learn and practice animal, plant, and other yoga positions while going on adventures with their fellow yogi friends. This invigorating program strengthens young bodies, minds, and imaginations and concludes with a calming relaxation exercise that encourages mindfulness.
ATTEND YOGA STORYTIME AND SONGS!
Grab your screen-time-stupored kids and come Yoga Storytime and Songs! Lizzy will be at the SLC Library on Tuesdays at 11:00am throughout the summer starting Tuesday, June 6th. See you there!🧘‍♂️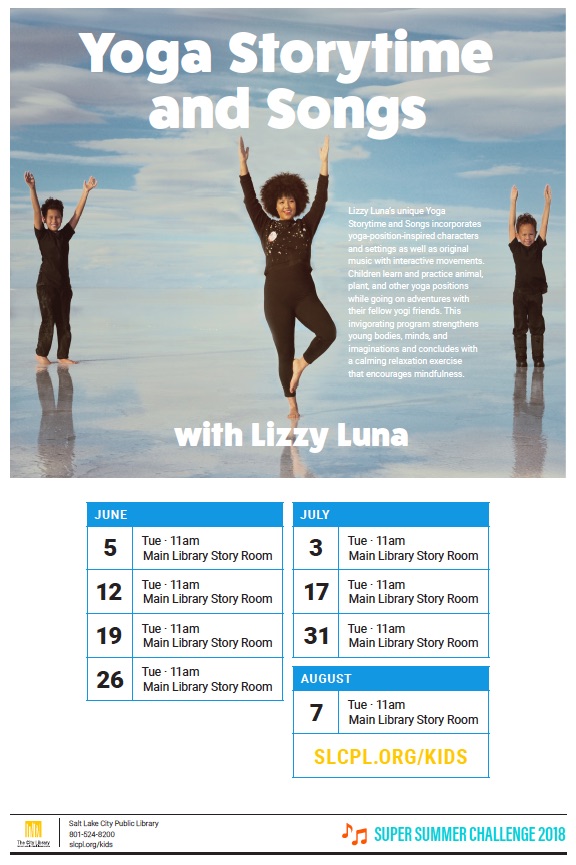 THANK YOU, KICKSTARTER BACKERS! Through the support of 88 backers, Lizzy Luna's first album of children's songs is in production, scheduled for release on May, 25 2018!  Learn more about the project.
"I watched in disbelief as my 5- and 2-year-old sons followed the entire yoga event. Lizzy's personality matches perfectly for this work. . . . Her combination of music and yoga allows her to give her performances a balance and dynamic that engages them fully and for long periods of time." – David Darmitzel, Hale Cook Elementary PTA President